Chocolates are an inseparable part of childhood but receive much flak for their sugar high. But did you know they're loaded with essential minerals and soluble fiber? Chocolates aren't a sinful indulgence when consumed in small quantities they also have surprising benefits. Cakes are another favourite of children. We have combined these two kids' favourites at Greatest Bakery with our milk chocolate truffle cake designs. We also have an eggless milk chocolate truffle cake for our vegetarian friends. Read on to learn why you must buy a milk chocolate truffle birthday cake for your little one.
What Is A Chocolate Truffle?
A chocolate truffle is a confectionary with a chocolate ganache center coated with cocoa powder, coconut or chopped nuts and resembles a truffle.
Universal Love for Chocolate:
Children's love for chocolate is undeniable. Chocolate is a timeless favourite among kids of all ages. Its rich, sweet, and creamy taste has the magical ability to instantly put a smile on their faces. A milk chocolate truffle cake epitomises chocolate goodness, making it the perfect choice to please every young palate.
Irresistible Taste:
Milk chocolate truffle cakes are not just any cake; they're a divine indulgence. With its moist, tender layers of chocolate cake and luscious truffle filling, every bite is a heavenly experience. The smooth chocolate ganache topping adds an extra layer of decadence that your child and their friends will savour.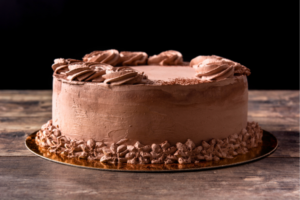 Memorable Moments:
A birthday cake is more than just a dessert; it's a centerpiece setting the celebration's tone. A chocolate truffle cake's elegant appearance and scrumptious taste will create lasting memories for your child and their guests. It's sure to become a talking point and a cherished memory for years to come.
Versatile Presentation:
Milk chocolate truffle cakes are incredibly versatile when decorating. You can customise the cake to match your child's favourite colours, characters, or themes. From superhero designs to princess castles, the smooth surface of a chocolate truffle cake is a canvas for your creative ideas.
Allergen-Friendly Options:
If your child or any of their friends have food allergies or dietary restrictions, milk chocolate truffle cakes are available in various allergen-friendly options. Many bakeries offer gluten-free, dairy-free, or nut-free versions, ensuring every child can enjoy a slice of the birthday cake.
Suitable for All Ages:
Chocolate truffle cakes aren't just for young children; teenagers and adults also love them. Choosing a cake that appeals to a wide range of ages ensures everyone at the party can savour a slice of delight.
Easy to Serve:
Slicing and serving a chocolate truffle cake is a breeze. The smooth ganache topping creates clean cuts, making it simple for you or your party host to serve the cake without mess or fuss.
When celebrating your child's birthday, we suggest choosing from our milk chocolate truffle cake designs. Its universal appeal, heavenly taste, and versatility make it a fantastic option for creating cherished memories. So, why wait? Visit us to order milk chocolate truffle cake and online delivery.