Chocolate cakes are one of the oldest and most decadent desserts that never fail to tempt even the most discernable critic. They have an irresistible aroma and are a perfect crowd-pleaser. If you are looking for an ideal treat for birthdays or anniversaries, here is a list of classic chocolate cakes you must try at least once. And if you are looking to buy chocolate dream truffle birthday cakes, visit our Bakery. We also offer our vegetarian friends an eggless chocolate dream truffle fresh cream cake.
Sacher Torte
The Sacher Torte is a renowned Austrian dessert celebrated for its rich history and delectable taste. This iconic cake consists of two dense, moist chocolate cake layers, separated by a layer of apricot jam and coated with a glossy chocolate glaze. It was first created in 1832 by Franz Sacher, a 16-year-old apprentice pastry chef in Vienna's Hotel Sacher. Today, the Original Sacher Torte is still exclusively crafted at the Hotel Sacher and has become a symbol of Austrian culinary excellence. Its harmonious blend of bittersweet chocolate and fruity apricot preserves delivers a harmonious balance of flavours that continues to delight dessert enthusiasts worldwide.
Chocolate Dream Truffle Birthday Cake
If you love chocolates, you must buy our chocolate dream truffle cake, famous for its rich and velvety goodness. This luscious cake boasts layers of moist chocolate sponge generously filled with smooth, dark chocolate ganache. Its exterior is enrobed in a glossy chocolate glaze, creating a stunning, mirror-like finish.
Every bite is a heavenly experience as the cake melts in your mouth, delivering an explosion of intense chocolate flavour. The truffle-like texture and luxurious taste make it a go-to dessert for chocolate enthusiasts and special occasions alike. It's a symphony of cocoa, a dessert masterpiece that fulfils the sweetest dreams of chocolate lovers. Indulgence never tasted so divine.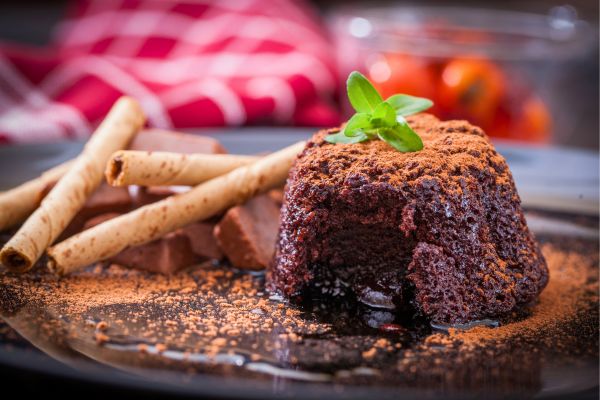 Chocolate Lava Cake
When cut, the molten lava that oozes out of a chocolate cake is a sight to behold. This dessert is an all-season favourite, but especially perfect for a rainy day. This indulgent treat is a masterpiece of contrasting textures and flavours. A simple yet elegant creation, it combines the timeless allure of chocolate with the surprise of a molten core. Baking to perfection, it forms a delicate crust while maintaining a luscious, liquid centre that oozes out upon the first forkful. Whether served warm with a scoop of vanilla ice cream or a dusting of powdered sugar, chocolate lava cake is a sensory symphony that beckons chocolate lovers to savour every heavenly bite, leaving them craving more.
Ferraro Rocher Cake
A Ferrero Rocher cake is a decadent dessert that pays homage to the iconic Ferrero Rocher chocolate confection. This indulgent cake consists of multiple layers of moist chocolate sponge cake sandwiched with rich Nutella or hazelnut-flavoured frosting. Crushed Ferrero Rocher chocolates are sprinkled between the layers for a delightful crunch, while the exterior is coated in a glossy chocolate ganache. The pièce de résistance is the Ferrero Rocher chocolates adorning the top, creating a stunning presentation. Each bite is a harmonious blend of creamy, nutty, and chocolatey flavours, making it a dream dessert for chocolate and hazelnut lovers alike. It's a true showstopper at any celebration.
Chocolate Fudge Cake
Unlike a chocolate cake, a fudge-infused chocolate cake is richer, denser, and more decadent. To the uninitiated, a fudge contains sugar and dairy cooked together to form a semi-smooth confection. This heavenly treat consists of layers of moist chocolate cake, generously filled and frosted with velvety, creamy chocolate fudge icing. The cake's irresistible texture combines the softness of the cake layers with the smooth, glossy finish of the fudge, creating a delightful contrast. Each bite is a symphony of cocoa, sugar, and butter, delivering an intense chocolatey experience that leaves dessert lovers craving more. You can serve them with a scoop of vanilla ice cream or enjoy it on its own.
This is only a small list of decadent and delectable chocolate-based desserts. To buy our chocolate dream truffle birthday cake or order our fresh cream cakes and online delivery, call 9003900374.