In the dessert world, chocolates are probably the most important discoveries. Millions of people consider them as an all-round pleasure and an energy-fueling food. They help boost mood and make a perfect celebration for all occasions. Here are some traditional chocolate-based desserts that people have been making across the world for hundreds of years. And if you are looking to buy choco truffle birthday cakes, visit Greatest Bakery. We even have an eggless choco truffle fresh cream cake for our vegetarian clients.
1. Choco Truffle Birthday Cakes
The chocolate truffle cake is a culinary masterpiece that tantalises the senses with its decadent, velvety indulgence. A symphony of flavours and textures starts with a moist, dark chocolate sponge base, its deep cocoa notes intensified by a hint of espresso. Generously layered with luscious ganache, each bite is a harmonious blend of silky smoothness and bittersweet intensity.
The pièce de résistance, however, lies in the crown of glossy chocolate truffles that adorn its surface, promising a luxurious explosion of cocoa goodness. Whether served at celebrations or savoured in solitude, this cake is a sublime testament to the enduring allure of chocolate, an irresistible temptation that captures hearts with its timeless appeal. Call now to order choco truffle fresh cream cake online delivery.
2. Choco Chip Cookies
Chocolate chip cookies are one of the most popular desserts in America. They are a beloved treat cherished for their irresistible combination of flavours and textures. These delectable cookies consist of a buttery, brown, sugar-infused dough generously studded with semisweet chocolate chips. The result is a sweet, slightly salty, and utterly satisfying bite that melts in your mouth. The aroma of baking cookies wafts through the kitchen, evoking warmth and comfort. Whether enjoyed fresh out of the oven with a glass of cold milk or savoured as a nostalgic snack, chocolate chip cookies are a timeless classic, bringing joy to people of all ages. They embody the essence of homemade goodness and remain a symbol of indulgence and happiness.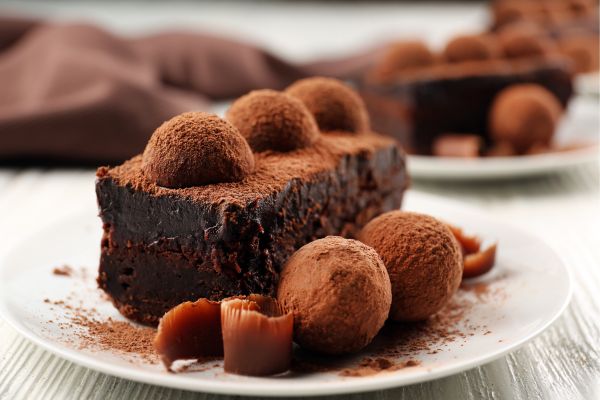 3. Chocolate Fondue
Chocolate fondue was invented in New York in the 1960s by a Swiss who wanted to add a dessert version of fondue to his restaurant menu. The original version had chocolate, heavy cream and kirsch, a cherry brandy. Slowly, they became very popular, especially among children. In fact, they even became a promotion idea for Toblerone chocolates. Children love gathering around the fondue pot with skewers of their favourite things like strawberries, marshmallows, bananas, and even pineapple. Chocolate fondue, with its timeless appeal, continues to be a sweet sensation enjoyed by people of all ages around the world.
4. Champurrado
Champurrado is a traditional Mexican dessert made using Mexican chocolate, sugar cane, and cinnamon mixed with a mixture of corn flour, milk and water. This drink is popular in Mexico during Christmas and only takes 5 minutes to prepare. The flavour of this drink is unique, with a hint of molasses and smoke or even rum. Champurrado's thick, velvety texture sets it apart, making it akin to a chocolatey porridge. Its origins can be traced back to ancient Aztec and Mayan civilisations, demonstrating its enduring legacy.
5. Belgian Chocolates
If there's ever a gold standard for chocolates, it has to be Belgian chocolates. Unlike ordinary chocolates, Belgian chocolates are made using superior cocoa beans that are carefully selected and harvested. Also, they have a higher percentage of cocoa and almost 100% cocoa butter.
Visit us if you are looking for premium-quality choco truffle birthday cakes made using superior ingredients. Call now to order fresh cream cakes online delivery.