Caramels are the best way to indulge your sweet tooth. They can be added to any dessert to create unique sweets of varying textures. You can make them as gooey as you want or as crunchy as you want. Some popular desserts made using caramel include banoffee pie, caramel fruit slice, caramel popcorn, and caramel crunch cakes. If you want caramel crunch birthday cakes, contact us. We even have an eggless caramel crunch fresh cream cake for our vegetarian clients. Read on to learn more about caramel-based desserts.
History of Caramel
The most basic form of caramel was probably first made by the Arabs around 1000 AD by mixing sugar with water and used for beauty products. It was only much later that they began to be used as a confection. The word caramel is derived from the Portuguese word caramel, which means ball of sweet. Caramel became a popular ingredient for desserts in France around the 14th century and was first used as salted butter caramel.
As for caramel crunch birthday cakes, they were first introduced in Europe. Some of the original caramel cakes include Doberge torte, a multi-layered cake with frosting. Caramel crunch cakes are made with crunchy nut-flavoured meringue layers, caramel, and whipped cream.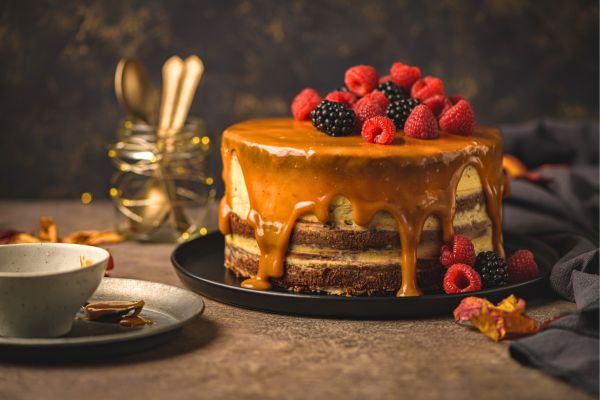 Why Do People Love Caramel Crunch Cakes?
People love caramel crunch cakes for a variety of reasons. For one, the cake embodies different textures and flavours. Soft and moist cakes are layered with fresh cream and topped with crunchy and crispy caramel, giving you a sensory experience. Furthermore, with its rich, buttery sweetness, caramel is a universally beloved flavour. Its deep, complex notes are both comforting and decadent, making it a comforting treat for any occasion. The toasty crunch adds an exciting element that keeps the palate engaged, making each bite a delightful surprise. In essence, people love caramel crunch cake because it combines exquisite flavours, captivating textures, and sentimental value into a single delectable package. It's a dessert that transcends its ingredients, becoming a source of joy, comfort, and celebration for those fortunate enough to savour its delightful allure.
A caramel crunchy cake evokes fond childhood memories among people who associate them with birthdays, anniversaries, and other family gatherings.
Visit us if you are looking to order caramel crunch fresh cream cake online delivery.