Cakes are the most important element of every birthday and the centrepiece of the event. Everyone, including children and adults, is eager when it arrives at the party, curiously wanting to know the size, shape, and colour of the cake. Gone are the days of simple and unique birthday cakes like Black Forest or White Forest. Children now want special cakes that match their personality and interests. If your child's birthday is due soon, here are a few unique themes you can consider.
Rainbow Theme Birthday Cake
To buy unique rainbow birthday cakes in Nagercoil, visit Greatest Bakery. Rainbows symbolise inclusivity, diversity, love, and friendship. They are a sign of hope and good fortune. What better way to celebrate your child's special day than with a rainbow cake? We also have an eggless rainbow cream cake for our vegetarian friends. Call 9003 9003 74 for rainbow fresh cream cake online delivery in Nagercoil. To order rainbow cake online, visit Greatest Bakery.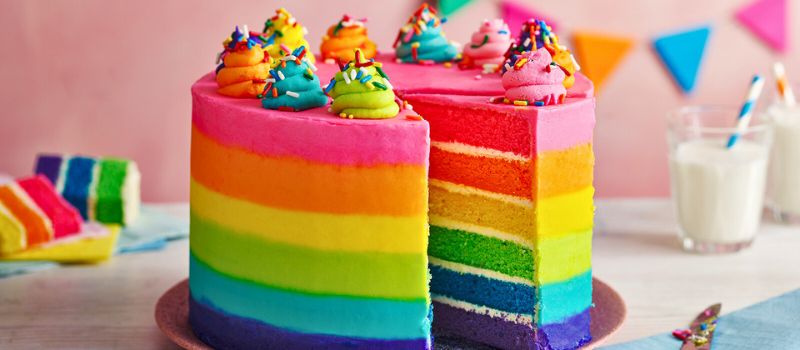 Blueberry Cake
Blueberry fresh cream cakes are a picnic staple with different stories about their origin. Some believe the cake was first created by the pilgrims in their Thanksgiving Dinner. However, modern historians believe that the cake was first mentioned by Linda Hull Larned in her cookbook One Hundred Picnic Suggestions in 1915. There can be nothing more memorable way to celebrate a birthday than a fresh cream cake flavoured with blueberry.
Strawberry Cake
Strawberry fresh cream cakes were first introduced over two thousand years ago, i.e., through Roman times. But the recipe for the strawberry cake did not appear until 1588 when it was first introduced in an old English cookbook. The cake became very popular around the 1600s when Shakespeare used the name Alice Shortcake in his play The Merry Wives Of Windsor. In the United States, strawberry shortcakes were introduced in Miss Leslie's Ladies New Receipt Book in 1847. They're so popular today that Americans celebrate Strawberry Shortcake Day on June 14th.
If your child loves pink or is a fan of strawberries, you must order our strawberry cake to celebrate your little one's birthday.
Kiwi Cake
If your daughter loves green or is a fan of kiwis, you must buy this beautiful kiwi fresh cream cake in bright green. We use fresh kiwis to flavour the cake, making it extra special with fresh cream. This delectable treat starts with a simple sponge or vanilla cake base. Sliced or pureed kiwis are incorporated into the batter, infusing it with their vibrant green colour and distinctive tropical taste. The result is a moist and flavorful cake that's refreshing and sweet. Kiwi cake is often adorned with a glossy kiwi glaze or a dusting of powdered sugar, and it's a perfect choice for those seeking a unique twist on traditional desserts, capturing the essence of summer in every bite.
Red Velvet Cake
If your little one loves red colour, you must buy this beautiful red velvet fresh cream cake. Red velvet cakes were first introduced in the 13th century. But it wasn't until the Victorian times that people began baking them frequently, thanks to the introduction of cocoa. It was called Devil's Cake because cocoa when mixed with baking soda and buttermilk, gave off a red colour back then. And since the cake was extra soft and moist because of the cocoa, people loved the cake.
During World War II, when food was rationed, women often substituted sugar and butter with beet juice, as beets made the cake colourful and soft. They prevented the cakes from turning dry. However, red food is used as a substitute for beet juice.
Contact us to order fresh cream cake in Nagercoil at the best price possible.