Cakes are essential for a birthday as they symbolise celebration, joy, and the passage of time. It's a tradition that transcends cultures and generations, bringing people together to mark the special day of someone's life. Bringing out candles and making a wish atop the cake is a cherished moment of hope and anticipation. The sweet and indulgent nature of cakes adds a delightful touch to the festivities, making birthdays memorable and extraordinary. Whether homemade or bought, a birthday cake is a heartfelt gesture that shows love and care, reminding us to appreciate life's sweet moments and create lasting memories. But you don't have to stick to the usual Black Forest or Chocolate Cakes. At Greatest Bakery, we've made a list of cakes that are as unique as you are, including our customised caramel butterscotch flavour. To buy our caramel butterscotch birthday cake, call us. We even have an eggless caramel butterscotch fresh cream cake for our vegetarian friends.
Caramel Butterscotch Fresh Cream Cake
Indulgence takes on a new meaning when you bite a slice of caramel butterscotch fresh cream cake. This heavenly dessert combines the rich flavours of caramel and butterscotch with the luxurious creaminess of fresh cream, creating a symphony of taste that's nothing short of divine.
The base of this cake is a moist, buttery sponge, perfectly complemented by layers of silky caramel and butterscotch sauce. The caramel adds a deep, sweet, and slightly smoky flavour, while the butterscotch provides a delightful hint of butteriness and warmth.
The crowning glory of this confection is the fresh cream topping. Whipped to perfection, it blankets the cake in a pillowy cloud of velvety sweetness. The cream adds a light and airy texture and balances the richness of the caramel and butterscotch, making every bite a harmonious blend of flavours and textures.
Whether celebrating a special occasion or simply craving a slice of pure indulgence, a caramel-butterscotch fresh cream cake is the perfect choice. Its combination of sweet and savoury notes and luscious creaminess will leave your taste buds dancing in delight. So, treat yourself and your loved ones to this decadent delight and savour the magic of caramel, butterscotch, and fresh cream in every bite. Call us to learn more about our caramel butterscotch fresh cream cake price.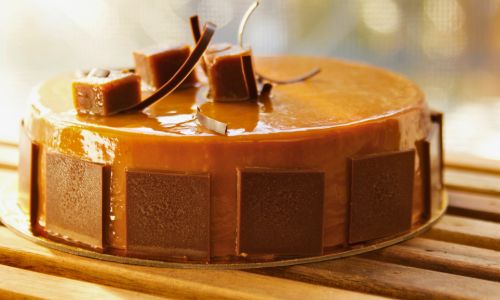 Kulfi Cake
Kulfi cake is a delightful fusion dessert that combines the rich flavours of traditional Indian kulfi with the indulgence of a cake. This unique treat features layers of moist cake infused with the essence of kulfi, a popular Indian frozen dessert known for its creamy, cardamom-infused goodness. The cake is often garnished with chopped pistachios, almonds, and a drizzle of saffron syrup, echoing the traditional kulfi toppings. The result is a harmonious blend of textures and tastes, where the softness of the cake contrasts with the crunchy nuts and the aromatic, sweet fragrance of saffron. Kulfi cake is a true celebration of Indian culinary traditions and a mouthwatering dessert for any occasion.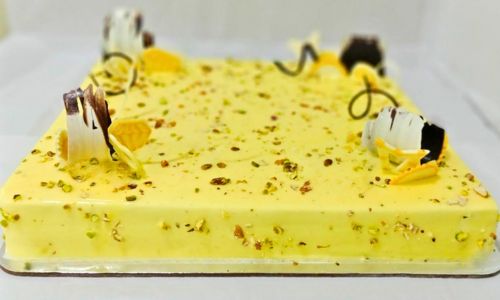 Hazelnut Almond Cake
This unique cake features two favourites hazelnuts and almonds. This amazing cake is made by making a paste of almonds and hazelnuts for that rich and nutty flavour. This delectable treat begins with a moist, dense cake base crafted from finely ground hazelnuts and almonds, which impart a luscious, nutty texture. The nutty duo adds a depth of flavour that's both comforting and indulgent. It's often paired with a velvety almond buttercream frosting or a drizzle of honey to enhance the cake's sweetness, creating a harmonious balance between nutty richness and sweet decadence. Whether served as a special occasion centrepiece or a simple pleasure with coffee, the hazelnut and almond cake is a delectable masterpiece that satisfies cravings and delights taste buds. The cake is garnished with chopped almonds for that rich look and feel.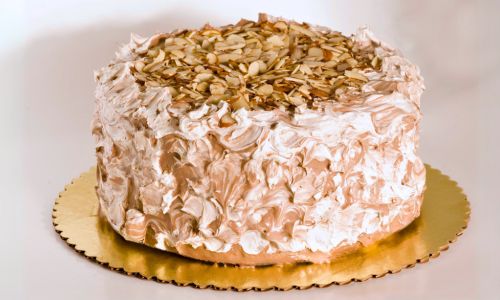 To indulge in a delectable caramel butterscotch birthday cake, please visit us or explore our online ordering platform to order fresh cream cakes online delivery.