Oreo may be the world's favourite cookie, but it's certainly not the best. From the humble Indian nankhatai to the elegant madeleine cookies from France, there are thousands of varieties of this humble sweet treat. Below we've listed some of the best-tasting cookies you must try at least once in your lifetime. And if you're looking to order cookies online in Nagercoil, you know where to come!
A Brief History of the Humble Cookie
Cookies were probably invented by accident when bakers tested oven temperature before baking cakes. With colonisation, sugar was in ample supply across Europe, making them a popular household staple as early as the 14th century. When Europeans travelled to America, they bought their cookie recipes with them, where they adapted old recipes to create even yummier varieties using local ingredients. The ubiquitous American chocolate chip cookies were accidentally invented in 1937 by Ruth Graves Wakefield when she accidentally used semi-sweet chocolates instead of baker's chocolate to make butter drop cookies. While she expected the chocolate to melt in the dough, they kept their shape, to her surprise.
When the cookies became exceptionally popular, Ruth agreed to print her recipe on Nestle's semi-sweet chocolate bar. And the rest is history!
Every Country in the World Has Its Version of a Cookie
From the Afghan khetayee to the deep-fried Iranian reshteh khoshkar, there are thousands of cookie varieties across the world. Here are ten different types of cookies that are sure to tempt everyone:
1. Chocolate Chip Cookies
As earlier said, these were invented by mistake and were initially called Toll House Crunch Cookies. Chocolate chip cookies are a favourite American staple and probably what most people think of when they hear the word cookie. They taste yummy on their own but are extra special when dunked in milk. Did you know the average American eats around 35,000 of these delicacies in his lifetime? At Greatest Bakery, we've taken this treat a step further with our special choco-chip brownie!
2. Nankhatai
These maida-based cookies are a popular Diwali sweet in North India. They taste similar to the Afghan khetayee and were popularly inspired by this version. Some believe nankhatai were first made in Surat during the 16th century when the Dutch established a bakery to cater to fellow Dutch. This bakery was later sold to an enterprising Parsi, Mr. Faramji Pestonji Dotivala, who improvised on a Dutch bread made using toddy and eggs and called it nankhatai. If you want to sample our nankhatais, contact us to buy cookies online in Nagercoil.
3. Macarons
Macarons are originally from France and were first made for the marriage of King Henry II of France. Chef Pierre Desfontaines invented macarons by filling almond cookies with ganache and sticking them together. Macarons are different from macaroons – while the latter is made using shredded coconut, egg whites, and sugar, macarons are made from almond flour, egg whites, and confectioners' sugar. At Greatest Bakery, we've created our version of macaroons – coconut macaroons and the famous Thoothukudi macaron. You can order them online from our cookie shop in Nagercoil.
4. Egg Drop Biscuits
These cute little biscuits are commonly found in Kerala, and Tamil Nadu bakeries and are sold under different names. They're called Mutta biscuits, button biscuits, and even bean biscuits because of their shape. Egg drop biscuits are mildly sweet and have an excellent vanilla flavor. Some bakers offer different flavours, including orange, mango, and pineapple. You can now order these cookies online in Nagercoil through Greatest Bakery.
5. Madeleines
Madeleines are French cookies or rather small cakes shaped in the form of a shell and made using beaten eggs, sugar, butter, and flavoured with orange or lemon blossoms. Madeleines are baked in a special pan called a madeleine pan – a shell-shaped mould. They are a perfect accompaniment for evening tea or coffee. French madeleines were probably invented by a young maid working for the Duke of Lorraine. It is believed that the French King Louis IV loved them so much that he introduced them to Versailles. And from there on, these yummy cake-like cookies took over the world.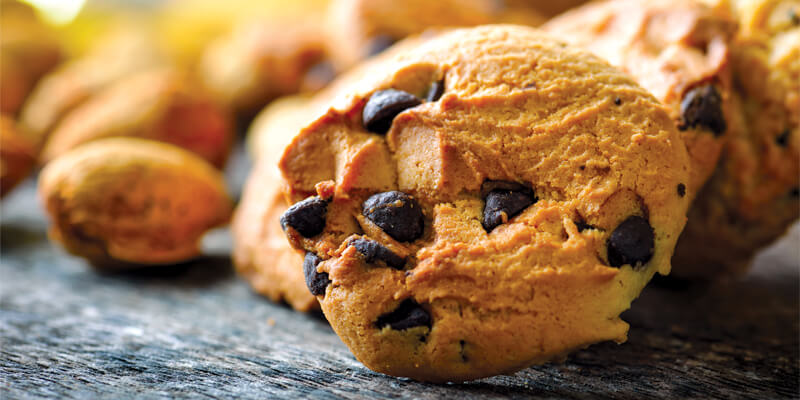 6. Jammy Dodgers
Jammy Dodgers are British cookies introduced in 1960 by Garry Weston. He invented the cookies by filling shortbread cookies with jam. They are popular biscuits and even mentioned in the Beano comics. Everyone loves licking the jam that oozes out of the cutout in the top cookie. But not everyone can make the perfect jammy dodgers. You need to fill the cookies with just the right amount of jam and spread it perfectly so that there's enough jam in the centre and just enough at the edges. If you're looking for a jammy dodger, order them online at our cookie shop in Nagercoil.
7. Shortbread
Shortbread cookies are made using butter, sugar, and flour. These Scottish cookies are true to their name; they're short on flour but have plenty of butter to make them soft. The cookies were originally made using leftover dough after making bread. The dough was allowed to dry and placed in the oven to make it hard. Gradually, yeast was substituted with butter, making them very similar to butter cookies, except with less sugar, and baked at a low temperature. If you're looking for shortbread cookies, order cookies online in Nagercoil.
8. Amaretti
Amaretti cookies were invented around the 17th and 18th centuries by Francesco Moriondo, the pastry chef at the Savoy Court. Amaretti biscuits are very popular among Italians – not just for their taste but also for the beautiful packaging of the cookies. Amaretti comes from the word amaro, which indicates the bitter almonds included in the biscuits. Thus, amaretti means little bitter biscuits. The cookies are made from ground almonds or almond paste, sugar, and egg whites. Some amaretti cookies are flavoured with chocolate or liqueurs and served with coffee or dessert wine.
9. Gingerbread Cookies
Gingerbread biscuits were believed to be made around 2400BC in Greece. Later, the Chinese developed their gingerbread version around the 10th century. Later. Europeans started shaping them into animals, kings, and other characters and decorating these cookies with gold leaves. Over the years, shapes changed and even became associated with elegance and extravagance. The concept of gingerbread houses was introduced in Germany where people created elaborate homes using gingerbread. At Greatest Bakery, we have modified the traditional gingerbread cookies to make our version of ginger cookies. You can now buy these cookies online in Nagercoil – call us or visit the website to order your favorite snacks and savories.
10. Butter Cookies
Butter cookies are also called Danish cookies and are made with few ingredients to maintain the buttery taste. They were first invented around 1100, but it was not until the late 1800s that Danish women began baking them at home. Butter cookies are the go-to snacks for children and adults. They're very popular in the United States, especially around Christmas, and are equally popular here at Greatest Bakery. Visit us to buy butter cookies online in Nagercoil. Are you looking for the best cake shops in Nagercoil? Visit us!