Some call them Christmas cakes, some prefer calling them fruit cakes – but honestly, a plum cake by any other name tastes the same. With Christmas around the corner, preparations for the ubiquitous plum cake keep everyone excited. From the ceremonial dry ingredient mixing ritual and soaking the nuts in alcohol to the actual baking, it's a long and arduous journey for the plum cake. But do you know about the origins of plum cake? Read on to learn more about the Christmas cake and the one ingredient that makes it special. And if you're looking for plum cake online delivery, visit us:
The Origins of the Plum Cake
A bread-like version of the Christmas cake was made as early as the Roman times, where they mixed barley, honey, wine, and dried fruits and nuts to concoct an energy bar-like bread to fuel their soldiers. Legend has it that the Egyptians left fruitcakes in the tombs of their dead for sustenance during their afterlife journey.
The tradition of Christmas puddings dates back to medieval England when people abstained from meat, dairy, and sweets during Advent, i.e., the weeks leading to Christmas. On Christmas Eve, a thick porridge called plum pottage or porridge was cooked using oats, beef, spices, and dried fruits. A pudding version of this later appeared during the Tudor era using suet, breadcrumbs, flour, dried fruits, honey, milk, and eggs and was called plum pudding.
Somewhere around the 16th century, oatmeal came to be replaced with flour, and people began to bake cakes, adding sugar (thanks to colonisation), milk, candied fruits, spices, and dried fruits and nuts. Of course, plum puddings are still baked and are a little different from fruitcakes/Christmas cakes.
Until the late 19th century, Christmas cakes were baked for the 12th night celebrations on the 5th of January. When Queen Victoria banned 12th night celebrations, confectioners began selling their cakes on Christmas cake after decorating them with icing. It was also around this time that Victorian cooks decorated their cakes with marzipans and royal icing to display wealth and opulence.
The modern version of these cakes is decadent, rich in dried fruits and spices, and sometimes coated in marzipan and icing.
The Origin of Plum Cakes in India
It is believed that the first plum cake was made in 1883 when an English planter brought back a rich plum cake from England and asked a local baker, Mambally Bapu, to prepare something similar. Bapu replaced yeast with a local toddy made using cashew apple and kadalipazham. The colonial officers had a tough time replicating these cakes as procuring quality flour, and yeast (baking powder wasn't invented then) was challenging. Also, since we did not have a tradition of baking, cooks had to make their ovens by placing baking tins over sand heated at high temperatures and placing glowing charcoal on the baking tins.
The Indian version of the traditional English Christmas cake includes tutti frutti, with some even adding ghee to the cake. There's another version called the Allahabadi cake, where petha (candied ash gourd) and a local marmalade called murabba are added.
Why are They Called Plum Cakes When They Don't Contain Plums?
We all know that there are no plums or prunes (dried plums) in a Christmas cake. And yet, they're called plum cakes! It is probably because earlier, dried fruits were called plums.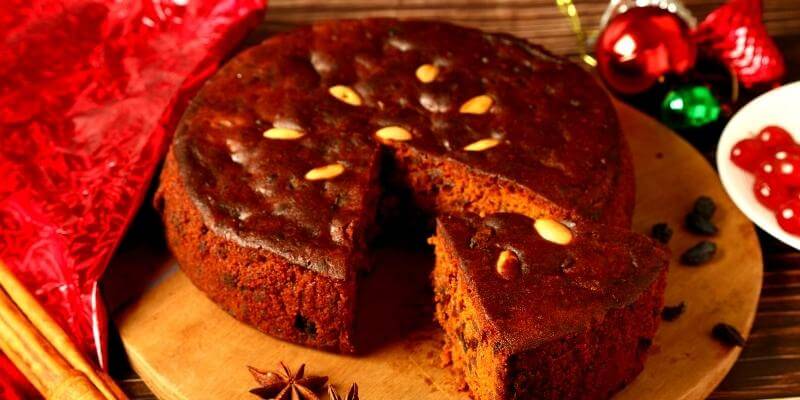 When Should You Start Making Plum Cakes?
During the late 18th and 19th centuries, families of British officers posted in India, Australia, and other colonies began making plum cakes months in advance to send to their loved ones. This is probably how the tradition of Christmas cakes spread all over the world, and the practice of baking them began.
During the 19th century, it became popular to begin preparing the Christmas cake on Stir-up Sunday, i.e., the last Sunday before Advent. The tradition remains in many English households where the Christmas pudding mixture is combined and allowed to sit for the dried fruits to mellow and mature. Ideally, everyone in the family takes turns to stir the mix, always stirring from the east to the west.
The dry mixture, i.e., the dried fruits and nuts, must be soaked at least 6-7 weeks before Christmas to ensure they soak well and lend flavour to the cake. Some people even soak them as early as one year. If you're time-starved, consider soaking them a week or two in advance, although the taste varies vastly. But don't forget to mix the fruit and nut mixture to ensure even soaking. Do not soak them in plastic or metal containers; only dry and sterilised airtight glass containers will do. Once soaked, you don't have to place them in the fridge. You can leave it on in a cool and dry corner at room temperature – no need to refrigerate.
There's a lot of conflicting advice about the exact time of making these cakes. Some chefs suggest baking them two or three months before Christmas to allow sufficient time for the cake to mature and feed brandy or rum. If you're time-starved, it's alright to bake them a few weeks ahead; you'll have enough time to feed the cake. But there'll be less of a kick because there's not enough time for the cake to soak in the alcohol. As for making the cake on Christmas Eve, it may crumble if you eat it soon after baking. Besides, baking a plum cake isn't a quick affair – you must set aside an entire day to ensure it tastes and looks perfect. The most basic Christmas cake needs around 4 hours to bake, not to mention the time you'll need to get everything ready and mix them.
Modern mums don't have the time or patience for the elaborate preparations that go into making this yuletide staple. And that's why Greatest Bakery offers to bake them for you. We'll do all the hard work, so you can enjoy and share the plum cake with friends and family. All you need to do is to call us at 9003900374 or visit our website to order plum cake online.
How Long Do Christmas Cakes Last?
Ideally, fruitcakes can last up to a year because of the alcohol present in them. The USDA agrees that fruit cakes can last up to one year when frozen and for up to one month if stored in a pantry. In fact, in 2017, conservators at the Antarctic Heritage found a 100-year-old fruitcake in excellent condition – one that looks and smells almost edible. British explorer Robert Scott probably brought the fruitcake to his expedition to the South Pole in 1912. But that's not even the oldest cake – that honour goes to a 141-year-old fruitcake reportedly baked by Fidelia Ford in 1878!
We've Made Christmas Traditions Easy for You With Our Plum Cake Online Delivery:
With everyone busy with work and family, we understand that it's not easy to bake your cake. To ensure you don't miss out on this ubiquitous Christmas staple, we have now decided to start plum cake online delivery.
At Greatest Bakery, we have been making plum cakes since 1970 and are one of the first bakers to start selling them in Nagercoil. We use the finest quality ingredients and can even replace alcohol with oranges, apples, or other non-alcoholic juices.
You may order plum cakes online for your family or send them as a gift to your friends or relatives – we offer plum cake online delivery to anywhere in India. Are you looking for the best cake shops in Nagercoil? Visit us!