Pineapples originated in South America, probably in the region from Brazil to Paraguay. Thanks to the Spanish and Portuguese conquistadors, this King of Fruits found its way around the world from the Indian subcontinent to the Orient and Europe. From pineapple puzhiseri in the South to fenglisu, a traditional shortcake from Taiwan, every culture found unique ways to incorporate pineapple into their diet. At Greatest Bakery, we're also fans of the ubiquitous fruit. People visit us to buy pineapple birthday cakes, and we don't fail them, using fresh and high-quality ingredients. Below, we list some of the best pineapple-based desserts from around the world.
Pineapple Upside Down Cake
No family dinner or picnic is complete without a pineapple upside-down cake. This yummy dessert is a staple of every American household, with people fondly remembering recipes handed down by mothers and grandmothers. The cake did not become a household name until the Hawaiian Pineapple Company announced Mrs. Robert Davis' pineapple upside-down cake as one of the winners of a cooking contest, collecting recipes from canned pineapple. Today, the dessert is so popular in the United States that they even have a National Pineapple Upside Down Cake Day, celebrated annually on April 20. At Greatest Bakery, we have a modified version of the pineapple upside-down cake, using fresh cream and decorated with elaborate pineapple cake designs. Visit us to buy pineapple birthday cakes, or order one online. We also have an eggless pineapple cake option for our vegetarian clients.
Fengli Su
This Taiwanese shortcake has a sweet pineapple jam filling and is a favourite of the Taiwanese and the millions of tourists visiting the country. They first originated in Taichung during the 1920s. Today, they're a popular dessert all year round, but especially loved during the Moon Festival. During this time of the year, Chinese families come together to relish moon cakes and other sweet treats, especially the pineapple cake. The cake has a unique taste and texture, with a crumbly buttery crust on the outside and a sour, jammy filling perfectly balancing the sweet crust.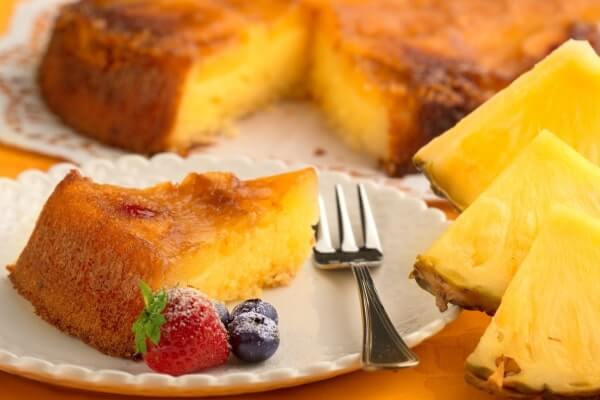 Pina Colada
Pina colada was probably invented by Puerto Rican bartenders during the 1950s by mixing coconut cream with pineapple juice, lime, sugar, and Bacardi rum. Even if you're a teetotaller, try the virgin pina colada mocktail made using frozen pineapple, coconut milk, pineapple juice, ice, and coconut sugar. This iconic drink is often garnished with a slice of pineapple and a maraschino cherry, adding a burst of colour and a touch of elegance. Sipping a Piña Colada instantly transports you to a sun-soaked beach, where worries are forgotten and relaxation reigns supreme. Pina colada literally translates to strained pineapple, referring to the freshly pressed and strained pineapple juice used in the cocktail. Whether you prefer it as a cocktail or mocktail, this tropical cocktail epitomises paradise in a glass.
Grilled Pineapple
Pineapple cultivation originated in Brazil, gradually spreading to other tropical parts of the world no wonder they know best how to cook this yummy fruit. The Brazilians don't do much to a pineapple except grill them to caramelise their sugars, leaving you with a sweet, sour, and smoky dessert that compliments steak. While there's nothing much added to the pineapple except brown sugar and cinnamon, we suggest you add a classic Mexican chile lime seasoning from Tajin for that extra spice and tartness.
At Greatest Bakery, we believe in delivering fresh cakes and desserts made using high-quality ingredients. Call us at 9003900374 to order fresh cream cakes online delivery.